Millions of people start blogs every day but most of those give up before the first 12 months. With a solid plan and determination you can build a successful blog in your first year.
You don't need to be one of those who give up. Keep reading if you want to create a successful blog. If you can learn from my experience, you can avoid making the same errors and just focus on the right stuff.
When I first started my blog I had no clue what I was doing. But I got really good and became one of those bloggers that make money.
Believe me, I made a lot of dumb mistakes along the way too. Get enough of those under your belt and you figure out how to do things the right way.
So in this article I'd like to share the 7 ways to create a successful blog.
But first, I want to give you a little history about blogging and how it's changed. If this bores you, just skip to the next section.
A Brief History of Blogging
It might surprise you that blogging was born in 1994 by Justin Hall. He was a college student at that time, attending Swarthmore College. He continues to update his blog periodically. You can visit it here at Links.net.
Back then, it wasn't about building a successful blog, Justin simply created a personal homepage. And that is all.
It wasn't until 1997 that Jorn Barger coined the term weblog to describe the process of "logging the web" as he surfed.
He was an influencer for "blogging" in the early days.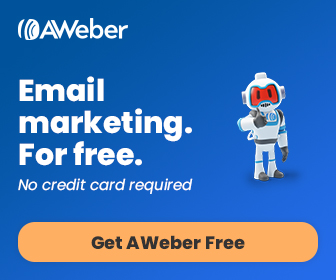 Then came 1999 when Peter Merholz, a programmer, shorten the term "weblog" to "blog." And five years later, it became the word of the year at Merriam-Webster.
Back in 1999, there were no glorious tools like WordPress to easily build a website. Successful blogs were mostly hand-coded HTML.
That was the year I took my maiden voyage into affiliate marketing and boy was I lucky I knew HTML because all the pages were created that way. Then came along HTML editors to help and things just took off from there.
Now that you have a look back at how blogging came to be, let's talk about how you can start a successful blog.
Tips for Creating a Successful Blog
The first year of blogging is the hardest. You may put a lot of time and energy into without results right away. It takes time so be patient. If you want to create a blog that is profitable, you need to appeal to your audience and bring in a lot of traffic.
These are my seven best tips for you to follow to make your blogging venture a great success.
Tip #1 – Know Your Target Audience
For whom are you writing your blog articles? Defining your target audience makes all the difference in creating successful blog content.
I remember the days that I would write blog posts that didn't appeal to anyone. I was writing for one person and that was me. That is not a good strategy to build a successful blog because no one else cared about the content I was creating.
Writing effective blog posts that a specific target audience has an interest in is a must. You do that by defining your target audience.
Who are these people?
What are their pain points?
Are they male or female?
What age group are they in?
What do they do?
What are their interests?
Which of their problems do you want to solve?
Understand the type of people you are targeting and build a blog strategy around the type of content that will appeal to them. Once you do that, those are the people that you will attract to your blog content.
Bloggers that make money develop a target audience that aligns with the content they create. Start thinking like your target audience to understand the things they care about.
If lots of people are interested in your topic, you have a better chance of building a successful blog that gets lots of traffic.
Tip #2 – Do Your Keyword Research
Do you want to get found in Google search results? Then do your keyword research. When I got started with blogging, I was not successful at first.
There is a very simple reason for this. I was not doing any keyword research, therefore my blog posts were not getting found in search. I was the only one interested in what I was writing about.
After incorporating extensive keyword research into my blog content, I started getting traffic and then converting that traffic to leads and customers.
Keyword research is how you understand what the people in your target audience are searching for.
Creating content that no one ever finds is a waste of your time. Use the keywords that people are actively searching for.
One of the best ways to do your keyword research is to use this process:
Create a list of terms.
Research those keywords in Google Keyword Planner to expand your list.
There are two basic types of keywords:
Broad keywords – topics
Broad keywords are very general. If someone searches for those terms, the results usually contain keyword terms in any order, usually along with other terms. Broad keywords are general, high volume in search, and very competitive
Longtail keywords
Longtail keywords are phrases that are 3, 4 or 5 words. They are very specific, more focused and targeted. There are less people competing for these in search and they are easier to rank for.
Spend the time on keyword research. Do not create content without it.
Tip #3 – Create an Email Opt-in
Successful blogs have email opt-ins to capture the email of visitors. If you get lots of traffic to your blog, how do you keep in touch with and build relationships with those people?
If they leave your blog without becoming a subscriber to your email list, that's it. You're done.
I made a huge mistake when I first started blogging by not starting an email list the minute I started my blog. I want to cry when I think about all the engagement and relationship building I missed out. This mistake cost me a lot. That's why I am stressing to you to get it done.
If they provide their email address in exchange for a free offer from you, now you can keep in contact with them, keep a relationship going, drive people back to your blog with interesting content, and promote offers.
For a long time, email got a bad rap. People were overwhelmed with emails from all the lists they subscribed to.
According to KISSmetrics, Email marketing has been used for years to keep in contact and maintain relationships with customers. Lately, with the increasing use of smartphones, we've seen the effectiveness continue to rise.
To start capturing emails, it starts with your blog. You'll need the following:
From there, you can create an email marketing strategy that aligns with your business.
Tip #4 – Be Consistent No Matter What
It can take several months or a year to build a successful blog that is profitable. Those are just the facts.
That may seem like a long time but here's the good news. The time will pass anyway, whether you do it or not.
If you stay consistent and do everything right for about a year, you have the possibility of success. If you don't you have no possibility of success.


When I started blogging, I didn't make any money for a few months. I didn't make the mistake of stopping. I continued to write effective blog posts and my consistency never wavered.
It took a few months but my hard work paid off. You can do this too. Don't be foolish and think that if you didn't make money in 3 months you are wasting your time.
Blogging is a passive income strategy but the rewards can be amazing!
The best course of action is to treat your blogging like a job. You show up to work don't you?
Create a consistent schedule for creating blog posts and stick with it, no matter what. You may not be rewarded today or next week, but the rewards can come. It's up to you.
Whether you are writing blog posts or promoting your content in social media, maintaining consistency is the way to blogging success.
Another point is that what if you start developing a readership and suddenly, you get lazy and stop creating blog content for a while? What will your reader think of you then?
Tip #5 – Promote Blog Post in Social Media
I love SEO and organic search results. I get a lot of traffic using this method but relying on SEO alone is not a good idea.
When I started my first blog, it was very successful within that first year. I enjoyed organic traffic until one day a Google algorithm update happened and I lost half the traffic.
Lesson learned. Promotion in social media is a must for any blog to be successful. Not only can you get traffic from social networks but you can build relationships with people who follow your brand.
You can actually double your traffic if you post consistently in social media networks. Just writing effective blog posts is not enough. Driving traffic to your website is just as important.

The best blog in the world without traffic is just a blog. Not a successful blog.
So, how do you determine where to promote your blog in social media? QuickSprout points out that you should figure out the traffic potential of various social networks for your blog content.
I get the most traffic from:
Google Plus
Twitter
Facebook
Pinterest
StumbleUpon
Promote your blog content in social media to drive engagement on your blog posts. Here's a video where I share 5 ways to increase social engagement:
Tip #6 – Learn Copywriting Techniques
Are you compelled to click certain links and then happily purchase a product that you didn't know you needed?
Have you clicked a headline in search results that stood out over all the others?
None of this is happenstance. It's due to copywriting techniques that are designed to capture your attention.
Writing great headlines can make the difference between you getting traffic or not. How does your compare to other similar blog posts in search results?
If your headlines are boring or look like a topic, your blog won't do too well. One of the best skills you can learn is how to be persuasive with words.
For headlines, there are number of headline generators and headline analyzers that you can use to help. After a reader is on your website reading an article, your goal is to convert that reader to a customer or lead. You do that by writing content that is value-driven with persuasive calls-to-action (CTA).
Here are 3 tips to get you started:
Write for people. People want to read quality content that is interesting and provides answers to their questions. Be better than your competitors.
Sell solutions, not features. People don't care about the details and features of your product. Tell them how the product or service will enrich their lives.
Include calls to action. What do you want your reader to do next? Direct them with a compelling call to action (CTA). Read more about that here.
Getting skilled at copywriting techniques can make you a more effective and higher paid blog content marketer.
Tip #7 – Use Self-Hosted WordPress Blog
Using a self-hosted WordPress website is the most important decision you'll make in starting your blog.

A self-hosted website simply means you have ownership and control of every
aspect of your website.
Full control
Your own domain
Complete access to all files
SEO friendly
Freedom to monetize
You get to choose your own domain name which is very professional. The hosting company stores your website files on powerful webservers.
Blogging platforms like Blogger, Tumblr, Wix don't allow you to self-host your website and to make it worse, you don't own the domain name.
Instead of a professional domain name, yours might look something like this: http://yourname.tumblr.com
In addition, if you violate any rules of these free blogging platforms, your website can get shutdown.
You'll also be able to extend the functionality of WordPress with plugins. To date there are some 32,818 plugins and they have been downloaded over 715,226,902 times, and counting. There are plugins available for every part of your blog.
Here are the tools you will need to get started…
Purchase a domain name (you can do so when purchasing web hosting.)
Purchase web hosting for your new WordPress blog.
Brand your blog with a cool looking theme
Here's a word of caution about starting your WordPress blog. Focus on what's important. I run into a lot of people who focus all their attention on getting the perfect header image or overdesigning their blog.
That is a waste of time. Most people are not focused on your header image.
In fact, with the majority of people now accessing blogs on smart phones, the header image is so small, I doubt anyone notices it much. Focus your time and energy on creating amazing blog content!
What if your blog looks amazing but your content sucks?
Conclusion
When it comes to creating a successful blog, be persistent and don't give up! You'll have many ups and downs, days where you feel like quitting. Don't!
I've given you seven crucial tips to creating a successful blog in your first year. Which of these tips resonate with you and how did you implement them?