Has your website traffic ever crashed after a Google algorithm update? Relying on organic traffic sources can be risky.
It's happened to me. There I was happily getting massive traffic from Google and then one day half of it was gone.
Lesson learned.
In addition, if your website is not ranking in the top 6 of Google page one, your chances of getting organic traffic are very slim. If you are not on page one at all, you likely won't get any traffic from Google.
Get busy with alternative traffic sources to Google. It takes work but you'll have more reliable sources of traffic to your website.
Today I am sharing 3 blog traffic sources that you can start using now.
Website Traffic Sources that are not Google
After losing a significant amount of website traffic, I thought it was the end of the world. It wasn't. I learned to get traffic from other sources instead of only relying on Google organic search results.
Ready to start boosting traffic to your website?
1: Get Blog Traffic from YouTube Videos
Are you marketing on YouTube? As the number 2 search engine in the world, you should be. Ranking videos on YouTube is easier than ranking a blog post on Google search. You can read more about that here.
If you are posting videos on YouTube, are you maximizing it as a source of traffic to your website?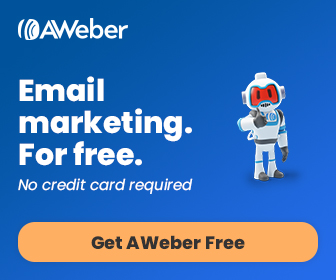 Here are 4 ways to use YouTube as a traffic source for your website:
1 – What is your Call to Action?
Every video you create should end with a call to action. You need to tell your viewer what to do next or they will just move on to another video of their choosing.
I see so many videos that don't give any direction at all. I bet those people are not getting any leads or customers.
A call to action is easy and should be on your checklist when creating videos for YouTube. At the end of your video, tell your viewer what to do and more important, why they should do it.
If you have a free informational download, tell your viewer why it will be so useful. Then tell them to head over to your website or click a link in the description to get there.
For example, at the end of your video, you can say something like this:
"Thanks so much for watching. If you'll like to know how to get more traffic to your videos, visit my website to download a free PDF. The link is in the description below."
2 – Link in YouTube Description for Traffic Generation
You can and should add a description to every video you upload. You have up to 5000 characters of space to write a compelling, optimized description that includes links.
To use YouTube as a website traffic source, just add a call to action in the description with a link. Write the complete URL. Here's an example:
Get More Traffic to Your Blog: 
http://wealthmissionpossible.com
You can also head over to the Google URL Shortener to include a shorter URL.
The link in the description should also align with what you said verbally in the video.
Add the website URL link after the first couple of lines of text as well as the end of the description. Why not add the link before the first line of the description?
When your video appears in search results, only the first 150 characters display. The  viewer will know right away what your video is about. If you have a link appearing first, the viewer may just skip over your video. Instead, use those 150 characters to show a compelling reason why a viewer should watch your video.
3 – Clickable Annotations and YouTube Cards
YouTube Annotations and Cards are a great way to provide a simple clickable call to action and direct viewers to your website.
First, you'll need to have an associated website domain setup in YouTube to verify and connect it to your channel. Learn more about that here.
YouTube Cards add interactivity to your videos. Cards can point viewers to a specific URL (from a list of eligible sites) and show customized images, titles, and calls to action, depending on the card type. Cards appear on the right side of the video only.
You can set them to appear at a specific time in your video to encourage a viewer to click over to your website.
Annotations work in a similar fashion except they are overlays that appear anywhere you want on the video. There are a few difference types of annotation overlays you can add to a video. You can watch this video to learn about that.
Annotations work best when they appear at a certain point in the video where you are talking about or giving a call to action. Then the viewer can click the hyperlinked annotation to go to your website.
For example, if you are talking about getting more traffic to your blog at minute 1:23, then the annotation should appear at that point in the video and only stay onscreen for about 10 seconds.
Annotations do not work on mobile devices so be sure to include Cards to your videos as well.
4 – End Cards
YouTube end cards are a branding strategy for your channel. They are created with an image template that you edit into your video. After you upload the video to YouTube you add Spotlight Annotations which are invisible areas to create links as overlays.
You can learn more about end cards here.
Make sure your CTA message is consistent through whichever method you use. For example, if your CTA is to download a PDF, then these methods should all be delivering the same message.
Creating compelling calls to action can help drive more traffic to your website. I've given you four ways to drive more traffic. Which of these will you implement?
2: Get Referral Traffic from Google Images
Google indexes many different things in your blog post. These elements include:
Heading
Subheadings (H1, H2, H3, etc.),
Metadata
Alternative image tags
And more.
The more elements you have in your blog post, the more that gets indexed. For example, if you have a blog post with 4 optimized images, that means 4 additional chances to get found in Google images and drive more traffic to your website.
In fact, according to Blog Pros, the ideal number of images is one per every 350 words. For example, if your article is 1240 words, you would include 3.5 images.
The key is to optimize your images. The  main areas to focus on:
Image name
Image alt tag
File type and size
Always use images legally and ethically. You can use your own images or find images free of copyrights and attribution.
Image File Name
Many bloggers upload images with the name that was assigned to that image. For example, if you grab an image from your smart phone, the name may be something like: img_2368.jpg
Instead give the image an appropriate name before you upload to your blog content. For example, if you want to rank for a particular keyword like "compelling blog content" then name your image "compelling-blog-content.jpg".
To see how this works, head over to Google images and search on a keyword. Check out the names of the images that are ranking.
Can you see how optimizing your image file names can refer more traffic to your website?
Image ALT
When you upload an image to your website, there are fields that you should fill in. The ALT attribute or Alternative text helps the search engine understand what the image is about.
The field is blank when you first upload your image. If you forgot to add the Alternative text to images, you can always go back and edit the embedded image to add it.
Use a related keyword that also describes the image. For example, if your blog post is about creating compelling blog content, your Alt text may be "3 Ways to Creating Compelling Blog Content."
Image File Size
Before uploading your image, resize in the correct size. This will help optimize the file size and faster loading time. Although WordPress does provide various sizes, the file size itself may not be optimized when you use a smaller size than the size you originally uploaded.
Don't miss out on getting referral traffic from images.  Follow this guideline and create a checklist for yourself each time you upload an image so you don't miss out on Google images as a traffic source.
3: Drive Traffic via Forums
Forum marketing has been around for a long time and yet most online marketers are not using it. This is a golden opportunity for you to use forums as an alternative traffic source.
By following a few simple strategic steps, you can leverage forums on a regular basis to drive traffic.
Here are your five steps:
1 – Find active forums
Who is your target audience and what is your expertise? Those are the topics of forums in which to participate. There are a number of ways to discover forums in search.
For example, if you specialize in nutrition, you can type this into search: nutrition +"forum". A number of forums related to nutrition will appear in the search results.
Visit the ones that look interesting and see if there is recent activity around topics that you want to participate in.
2 – Register and create an interesting bio
Once you find a forum, register and create an interesting bio. Since you are using this for business purposes to drive traffic and get leads, use a name that is your brand.
3 – Create a signature
Your signature is what people will click to visit your website. That is where the forum traffic will come from. Create a signature like a brief call to action and include your hyperlink. For example, your signature may include anchor text like this:
Create a Passive Income Stream Now
And links to your website.
4 – Find threads where you can add value
Review the existing threads. Be sure to find the most recent ones near the top. If not, your participation may go unnoticed. When you see a thread that poses a question that you can clearly answer, provide a professional and helpful answer.
Don't go crazy with posting. Remember it's quality over quantity. Two a day should do it.
5 – Create your own threads
While there is value in helping answer questions, you can also provide value by starting your own threads without a lot of extra work. For example, repurpose a blog post into a forum thread. You can edit it somewhat to be a little different and provide helpful information for others on a topic that people want to know more about.
I gave you 5 simple steps to take to start getting referral traffic from forums. Do let me know how that's working for you.
Conclusion
If you want to improve your web traffic sources, you need to find other ways to drive quality traffic to your website.
It's a good practice whether you have had a dip in organic Google results or not. Driving traffic from other sources will have a positive impact on your content marketing efforts.
I've shown you three different ways to drive traffic from sources other than Google. Start with one and then apply the rest.
What results did you get from implementing these methods? Leave your thoughts in the comments below.